---
Descripción: For + nombre + infinitivo con to. Aprende a formar oraciones de infinitivo en inglés introducidas por for. 
---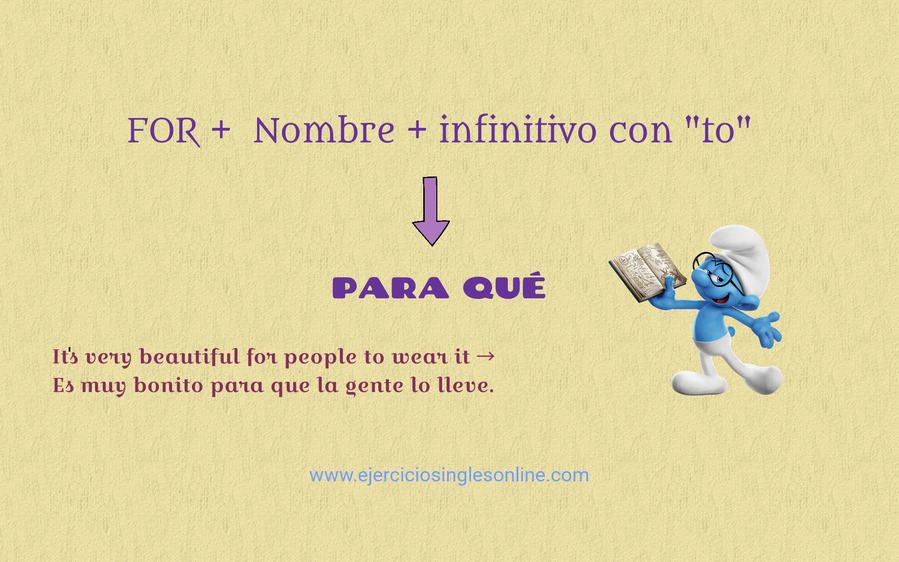 ejemplos
1. Sleeping well is  important for students to pass their exams.
(Dormir bien es importante para que los estudiantes aprueben sus exámenes).
2. It is too hot for children to play outdoors.
(Hace demasiado calor para que los niños jueguen fuera)
3. It is time for us to have lunch.
(Es hora para que almorcemos).
4. Working hard is essential for you to have a good salary.
(Trabajar dura es esencial para que tengas un buen salario).
5. That car is very expensive for people to buy it.
(Ese coche es muy caro para que la gente lo compre).
6. That man is very ugly for a girl to love him.
(Ese hombre es muy feo para que una mujer lo ame).
7. This stone is very heavy for us to move it.
(Este piedra es muy pesada para que nosotros la movamos)
8. Australia is very far away for us to go.
(Australia está muy lejos para que nosotros vayamos)
---
---