---
Descripción: Verbo modal MUST - Accede a las explicaciones del verbo modal MUST en afirmativa y negativa. Accede a los ejemplos y ejercicios online. Después, comprueba tus respuestas. 
---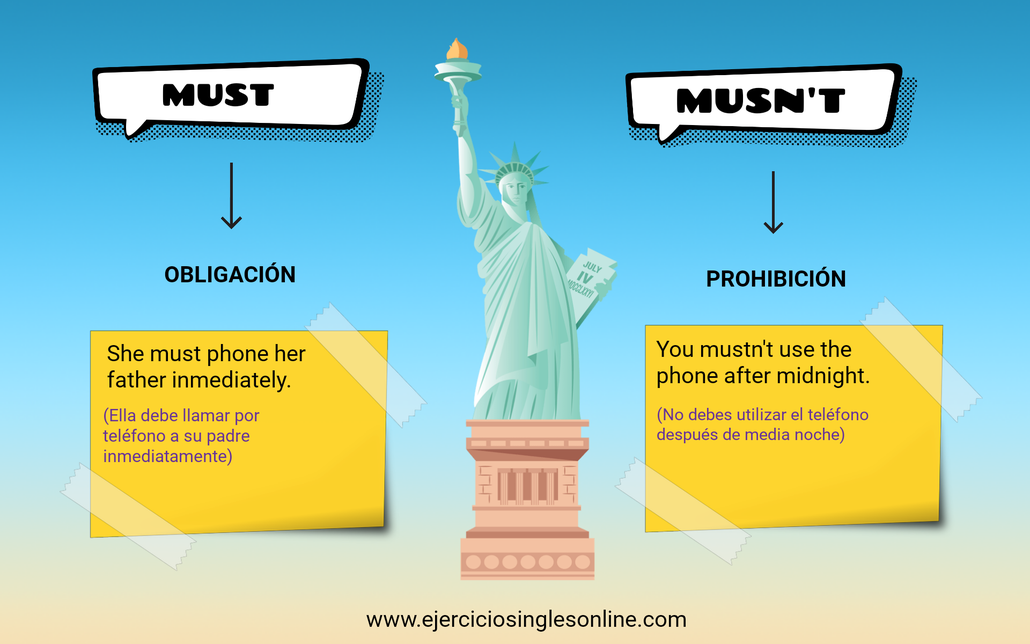 EJEMPLOS
1. You must do your homework everyday. 
(Debes hacer los / tus deberes todos los días.
2. You must help your parents at home.
(Debes ayudar a tus padres en casa)
3. You must behave well in the classroom.
(Debes comportarte bien en clase).
4. You must tidy your room everyday.
(Debes ordenar tu habitación todos los días)
5. You must study hard to get a good job.
(Debes estudiar duro para conseguir un bien trabajo)
6. You mustn't smoke. It is bad for your health.
(No debes fumar. Es malo para tu salud)
7. You mustn't drive fast. You have to respect traffic signs. 
(No debes conducir rápido. Tienes que respetar las señales de tráfico)
8. You mustn't touch that plug. It's dangerous!
(No debes tocar ese enchufe. ¡Es peligroso!
9. You mustn't throw the rubbish on the ground.
(No debes tirar basura al suelo).
10. You mustn't disturb the bus driver. It's forbidden!
(No debes molestar al conductor. Está prohibido).
ejercicio online
---
Descripción: Verbos modales en inglés - Ejercicio de repaso. Completa las frases con must o mustn't y los verbos de abajo. Después, comprueba tus respuestas. 
---
---
---