---
Descripción: Frases motivadores en inglés. Te presentamos nuevas frases motivadores en inglés que podrás utilizarlas tanto en lenguaje hablado como en redacciones escritas. Además, te ayudarán a sentirte mejor contigo mismo y a recuperar la confianza perdida.
---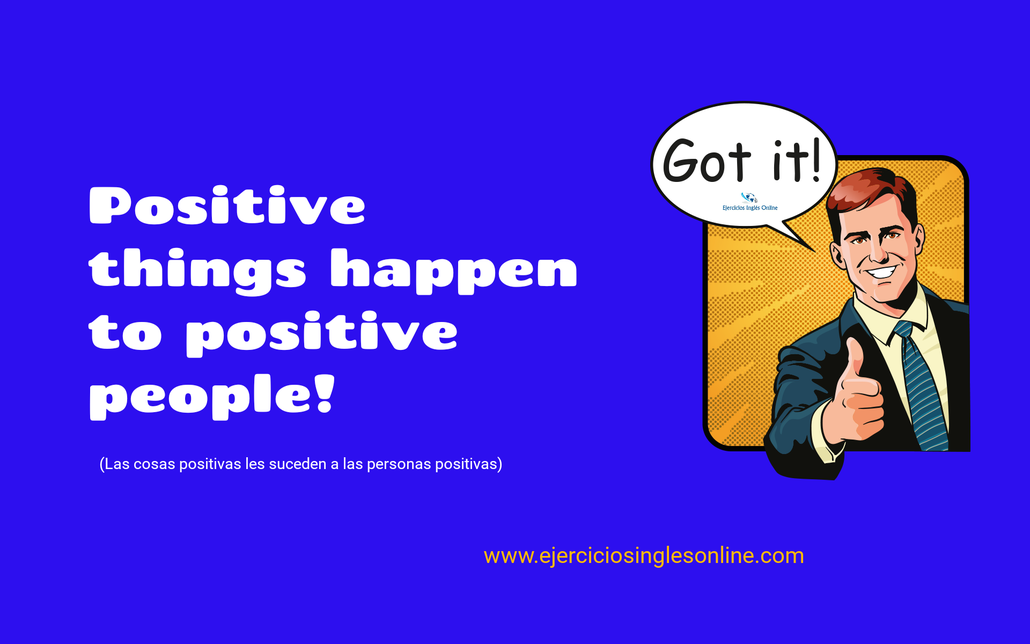 1. Work hard. Drink big.
(Trabaja duro. Sueña en grande)
2. Positive things happen to possitive people.
(Las cosas positivas suceden a personas positivas)
3. Opportunities don't happen. You create them!
(Las oportunidades no suceden. Tu las creas)
4. Don't raise your voice, improve your argument.
(No levantes tu voz, mejora tu argumento)
5. All your dreams can come true, if you have the courage to pursue them.
(Todos tus sueños pueden hacerse realidad si tienes el coraje de perseguirlos)
6. Early to bed and early to rise makes a man healthy, wealthy and wise.
(Irse a la cama temprano y levantarse temprano hace a un hombre sano, rico y sabio).
7. Success is where preparation and opportunity meet.
(El éxito es donde la preparación y la oportunidad se juntan)
8. Honesty is the first chapter in the book of wisdom.
(La honestidad es el primer capítulo del libro de la sabiduría)
9. Try to be rainbow in someone's cloud.
(Intenta ser arco iris en la nube de otra persona)
10. Light tomorrow with today!
(¡Ilumina el mañana con el día de hoy!)
11. Sometimes the heart sees what is invisible to the eye.
(A veces el corazón ve lo que es invisible para el ojo)
12. If opportunity doesn' knock, build a door.
(Si las oportunidades no llaman, construye una puerta)
13. If you love what you do, you'll never work a day in your life.
(Si te encanta lo que haces, no trabajarás ni un solo día de tu vida)
14. Laugh as much as you breathe and love as long as you live.
(Ríe tanto como respires y ama tanto como vivas)
15. Always do what you are afraid to do.
(Haz siempre aquello que te de miedo)
16. Life is too short to settle. Surrond yourself with positive people who love and respect you.
(La vida es muy corta para asentarse en ella. Rodéate de gente positiva que te ame y te respete).
17. Day by day, my life is improving in every way.
(Día a día, mi vida mejora en todos los aspectos).
18. Every moment is a fresh beginning.
(Cada momento es un nuevo comienzo)
19. If you tell the truth you don't have to remember anything.
(Si dices la verdad no tienes que recordar nada).
20. When words fails, music speaks.
(Cuando las palabras fallan, la música habla).