---
Descripción: Descubre cómo mejorar tu nivel de inglés mientras te pones en forma. Nuestro artículo sobre 'fitness and exercise' te brinda vocabulario esencial y frases útiles relacionadas con el ejercicio y la salud. Aprende a hablar sobre rutinas de ejercicio, ejercicios populares y consejos para mantenerse en forma. ¡Combina el aprendizaje del inglés con un estilo de vida saludable!
---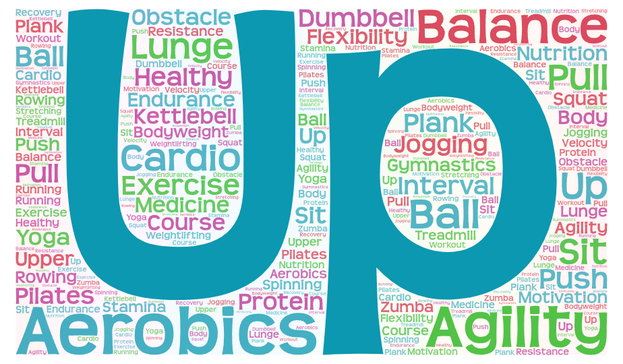 Aerobics

[eɪroʊbɪks]

- Aeróbicos
Agility

[əˈdʒɪləti]

- Agilidad
Balance

[ˈbæləns]

- Equilibrio
Bodyweight

[ˈbɒdiweɪt]

- Peso corporal
Cardio

[ˈkɑːrdioʊ]

- Cardiovascular
Dumbbell

[ˈdʌmbɛl]

- Mancuerna
Endurance

[ɪnˈdʊərəns]

- Resistencia
Exercise

[ˈɛksərsaɪz]

- Ejercicio
Flexibility

[ˌflɛksəˈbɪləti]

- Flexibilidad
Gymnastics

[dʒɪmˈnæstɪks]

- Gimnasia
Healthy

[ˈhɛlθi]

- Saludable
Interval

[ˈɪntərvəl]

- Intervalo
Jogging

[ˈdʒɑːɡɪŋ]

- Trotar
Kettlebell

[ˈkɛtl̩bɛl]

- Pesa rusa
Lunge

[lʌndʒ]

- Zancada
Medicine ball

[ˈmɛdəsn̩ bɔːl]

- Balón medicinal
Motivation

[ˌmoʊtɪˈveɪʃən]

- Motivación
Nutrition

[nuˈtrɪʃən]

- Nutrición
Obstacle course

[ˈɑbstəkəl kɔːrs]

- Curso de obstáculos
Pilates

[pɪˈlɑːtiːz]

- Pilates
Plank

[plæŋk]

- Plancha
Protein

[ˈproʊtiːn]

- Proteína
Pull-up

[ˈpʊlʌp]

- Dominada
Push-up

[ˈpʊʃʌp]

- Flexión de brazos
Recovery

[rɪˈkʌvəri]

- Recuperación
Resistance

[rɪˈzɪstəns]

- Resistencia
Rowing

[ˈroʊɪŋ]

- Remo
Running

[ˈrʌnɪŋ]

- Correr
Sit-up

[ˈsɪtʌp

] - Abdominales
Spinning

[ˈspɪnɪŋ]

- Spinning
Squat

[skwɑːt]

- Sentadilla
Stamina

[ˈstæmɪnə]

- Resistencia
Stretching

[ˈstrɛtʃɪŋ]

- Estiramiento
Treadmill

[ˈtrɛdmɪl]

- Cinta de correr
Upper body

[ˈʌpər ˈbɒdi]

- Parte superior del cuerpo
Velocity

[vəˈlɒsəti]

- Velocidad
Weightlifting

[ˈweɪtlɪftɪŋ]

- Levantamiento de pesas
Workout

[ˈwɜːrkˌaʊt]

- Entrenamiento
Yoga

[ˈjoʊɡə]

- Yoga
Zumba

[ˈzʊmbə]

- Zumba
I start my day with a 30-minute jog to improve my cardiovascular endurance. - Empiezo mi día con una carrera de 30 minutos para mejorar mi resistencia cardiovascular.
Weightlifting helps me build upper body strength and tone my muscles. - Levantar pesas me ayuda a desarrollar fuerza en la parte superior del cuerpo y tonificar mis músculos.
Stretching before and after a workout is essential for maintaining flexibility. - Estirar antes y después de entrenar es esencial para mantener la flexibilidad.
Including protein in your diet is crucial for muscle recovery and growth. - Incluir proteínas en tu dieta es fundamental para la recuperación y el crecimiento muscular.
I enjoy practicing yoga to enhance my balance and promote relaxation. - Disfruto practicar yoga para mejorar mi equilibrio y promover la relajación.
One effective exercise for the core is the plank, which strengthens your abdominal muscles. - Un ejercicio efectivo para el abdomen es la plancha, que fortalece los músculos abdominales.
Maintaining proper form during workouts helps prevent injuries and maximize results. - Mantener una postura correcta durante los entrenamientos ayuda a prevenir lesiones y maximizar los resultados.
Setting realistic goals and tracking progress are key factors in staying motivated. - Establecer metas realistas y hacer un seguimiento del progreso son factores clave para mantener la motivación.
Incorporating interval training into your routine can boost your stamina and calorie burn. - Incluir entrenamiento en intervalos en tu rutina puede aumentar tu resistencia y quema de calorías.
Remember to stay hydrated during exercise to avoid dehydration and maintain optimal performance. - Recuerda mantenerte hidratado durante el ejercicio para evitar la deshidratación y mantener un rendimiento óptimo.