---
Descripción: Descubre vocabulario sobre "Famous landmarks": lugares icónicos como la Torre Eiffel, la Sagrada Familia y el Taj Mahal. Explora monumentos como el Coliseo y la Gran Muralla China. Desde el imponente Kremlin hasta la majestuosa Estatua de la Libertad, sumérgete en la belleza de estos sitios históricos y arquitectónicos en todo el mundo.
---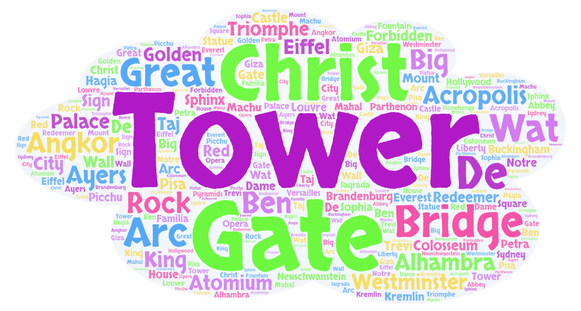 Acropolis

[ă-krŏp'-ə-lĭs]

- Acrópolis
Alhambra

[ăl-hăm'brə]

- Alhambra
Angkor Wat

[ăng'kôr wät]

- Angkor Wat
Arc de Triomphe

[ark di trē'ŭmf]

- Arco del Triunfo
Atomium

[ăt'ə-mē'əm]

- Atomium
Ayers Rock

[ā'ərz rŏk]

- Uluru
Big Ben

[bĭg bĕn]

- El Gran Ben
Brandenburg Gate

[brăn'dĕn-bûrg gāt]

- Puerta de Brandeburgo
Buckingham Palace

[bŭk'ĭng-ăm păl'ĭs]

- Palacio de Buckingham
Christ the King

[krīst thē king]

- Cristo Rey
Christ the Redeemer

[krīst thē rĭ-dēm'ər]

- Cristo Redentor
Colosseum

[kŏl'ə-sē'əm]

- Coliseo
Eiffel Tower

[ī'fəl tō'ər]

- Torre Eiffel
Forbidden City

[fər-bĭd'ən sĭ'tē]

- Ciudad Prohibida
Golden Gate Bridge

[gōl'dn gāt brij]

- Puente Golden Gate
Great Sphinx

[grāt sfinx]

- Gran Esfinge
Great Wall

[grāt wôl]

- Gran Muralla
Hagia Sophia

[hä'yä sō-fē'ä]

- Santa Sofía
Hollywood Sign

[hŏl'ē-wʊd sīn]

- Letrero de Hollywood
Kremlin

[krĕm'lĭn]

- Kremlin
Louvre

[lo͞ov]

- Museo del Louvre
Machu Picchu

[mä'cho͞o pē'cho͞o]

- Machu Picchu
Mount Everest

[mount ĕv'rĭst]

- Monte Everest
Neuschwanstein Castle

[noi-shvänts-tīn kăs'əl]

- Castillo de Neuschwanstein
Notre-Dame

[nō'trə-däm']

- Catedral de Notre-Dame
Parthenon

[pär'thĕ-nŏn]

- Partenón
Petra

[pē'trə]

- Petra
Pisa Tower

[pē'sə tō'ər]

- Torre de Pisa
Pyramids of Giza

[pīr'-ə-mĭdz ŭv gē'zə]

- Pirámides de Giza
Red Square

[rĕd skwâr]

- Plaza Roja
Sagrada Familia

[sə-grä'də fə-mēl'ē-ə]

- Sagrada Familia
Statue of Liberty

[stăch'ōō ŭv lĭb'ər-tē]

- Estatua de la Libertad
Stonehenge

[stōn'hĕnj]

- Stonehenge
Sydney Opera House

[sĭd'nē ŏp'ər-ə hous]

- Ópera de Sídney
Taj Mahal

[täzh mä-häl']

- Taj Mahal
Tower Bridge

[tou'ər brij]

- Tower Bridge
Trevi Fountain

[trĕv'ē faun'tn]

- Fuente de Trevi
Versailles

[vĕr-sī'yəz]

- Palacio de Versalles
Westminster Abbey

[wĕst'mĭn-stər ăb'ē]

- Abadía de Westminster
Westminster

[wĕst'mĭn-stər]

- Westminster
The Eiffel Tower in Paris is an iconic landmark that offers breathtaking views of the city. - La Torre Eiffel en París es un hito icónico que ofrece vistas impresionantes de la ciudad.
The Sagrada Familia in Barcelona is a masterpiece of architecture and a must-visit attraction. - La Sagrada Familia en Barcelona es una obra maestra de la arquitectura y una atracción que no te puedes perder.
The Taj Mahal in India is a symbol of love and a UNESCO World Heritage Site that should be on everyone's bucket list. - El Taj Mahal en India es un símbolo de amor y un sitio del Patrimonio Mundial de la UNESCO que debería estar en la lista de deseos de todos.
The Colosseum in Rome is a historic amphitheater where gladiatorial battles took place. It's a must-see when visiting the Eternal City. - El Coliseo en Roma es un anfiteatro histórico donde se llevaban a cabo batallas de gladiadores. Es imprescindible visitarlo al ir a la Ciudad Eterna.
The Great Wall of China is an architectural marvel that stretches over thousands of miles and offers incredible views. - La Gran Muralla China es una maravilla arquitectónica que se extiende por miles de millas y ofrece vistas increíbles.
The Kremlin in Moscow is the political and historical heart of Russia, housing stunning palaces, cathedrals, and museums. - El Kremlin en Moscú es el corazón político e histórico de Rusia, albergando impresionantes palacios, catedrales y museos.
The Statue of Liberty in New York is a symbol of freedom and welcomes visitors to the United States. - La Estatua de la Libertad en Nueva York es un símbolo de libertad y da la bienvenida a los visitantes a los Estados Unidos.
The Pyramids of Giza in Egypt are ancient wonders that showcase the incredible architectural skills of the ancient Egyptians. - Las Pirámides de Giza en Egipto son maravillas antiguas que muestran las increíbles habilidades arquitectónicas de los antiguos egipcios.
The Louvre Museum in Paris is home to thousands of artworks, including the famous painting of Mona Lisa. - El Museo del Louvre en París alberga miles de obras de arte, incluido el famoso cuadro de la Mona Lisa.
The Great Sphinx in Egypt is a mystical statue with the head of a human and the body of a lion, guarding the Pyramids of Giza. - La Gran Esfinge en Egipto es una estatua mística con cabeza humana y cuerpo de león, que custodia las Pirámides de Giza.