Descripción: Preposiciones de movimiento en inglés. Te presentamos las preposiciones de movimiento en inglés y te enseñamos a utilizarlas a través de ejemplos practicos.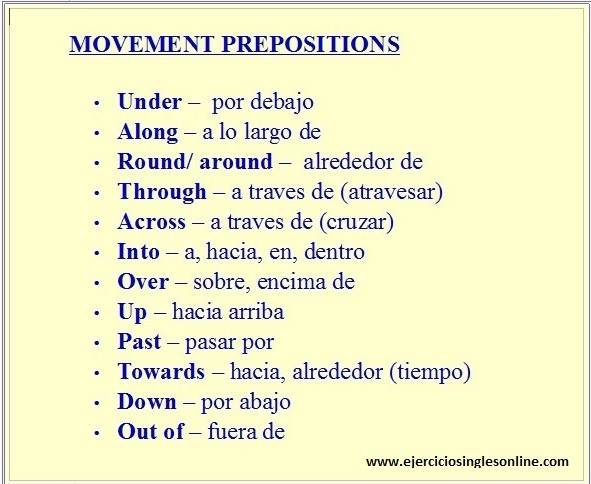 Ejemplos con las preposiciones de movimiento
1. My name is written under the book.
(Mi nombre está escrito debajo del libro)
2. These flowers are found along the river banks.
(Estas flores se encuentran a lo largo de las riveras de los ríos).
3. The British Museum is just round the corner.
(El museo británico está a la vuelta de la esquina)
4. Across the country new school are being constructed.
(A través del país nuevas escuelas han sido construidas)
5. Take care that no water gets into the electricity system.
(Ten cuidado de que no entre agua en el circuito eléctrico)
6. There are drones ready to fire missiles over our heads. 
(Hay drones preparados para lanzar misiles sobre nuestras cabezas)
7. Babies love moving his eyes up and down.
(A los bebés les encanta mover sus ojos hacia arriba y hacia abajo)
8. Go down the street past the church on your left.
(Siga hacia abajo pasada la iglesia a la izquierda)
9. The ship changed its course towards the east.
(El barco cambio su rumbo hacía el este)
10. How would I get out of here if there was a fire?
¿Cómo saldría de aquí si hubiera un incendio?