Descripción: Vocabulario de personalidad en inglés. Te presentamos el vocabulario de personalidad en inglés y como utilizarlo a través de ejemplos prácticos.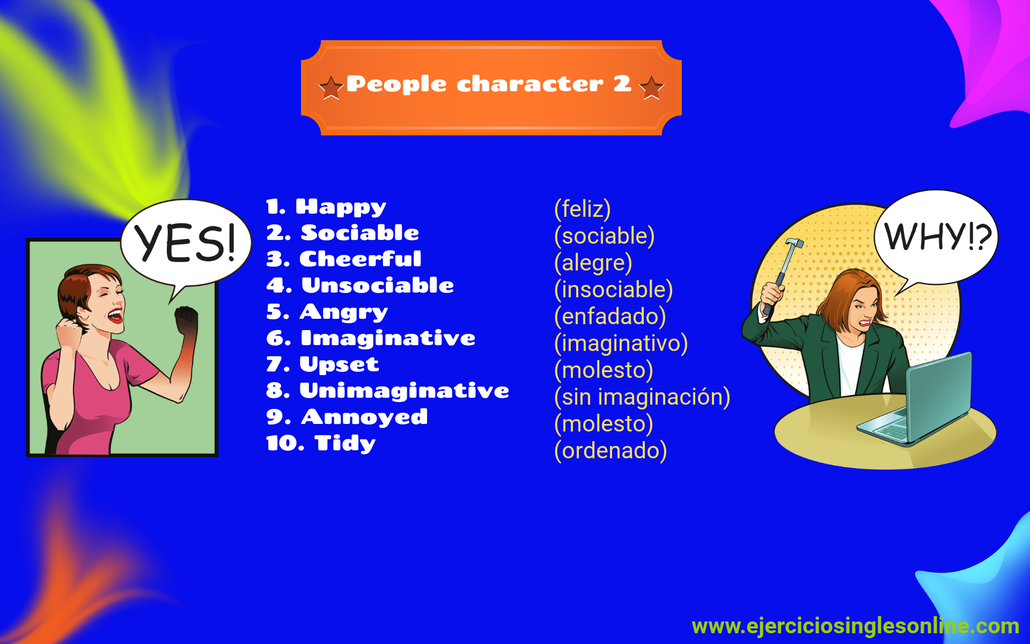 Ejemplos - Vocabulario personalidad
1. I am very happy to recieve my Amazon package.
(Estoy muy contento de recibir mi paquete de Amazon)
2. European people are very sociable.
(Los europeos son muy sociables)
3. I love cheerful people. They make me feel really good.
(Me encanta la gente alegre. Me hacen sentir muy bien)
4. My sister was open and nice and I was shy and unsociable.
(Mi hermana era abierta y simpática y yo tímida y arisca)
5. I am angry with my parents.
(Estoy enfadado con mis padres)
6. The child was very imaginative, but when people would try to join in he would get angry. (*"would se puede utilizar para hablar en pasado. Más información)
(El niño era muy imaginativo, pero cuando la gente intentaba participar el se enfadaba).
7. He was upset because he felt his father was unjust.
(El se molestó porque sintió que su padre fue injusto)
8. Mariano Rajoy appears to be unimaginative.
(Mariano Rajoy parece ser poco imaginativo)
9. Ronaldo was annoyed with the referee. 
(Ronaldo estaba molesto con el árbitro)
10. The cook always leaves the kitchen clean and tidy.
(El cocinero siempre deja la cocina limpia y ordenada)