Descripción: Vocabulario de personalidad en inglés. En la siguiente entrada te presentamos el vocabulario de personalidad de inglés. Esta sección incluye ejemplos con cada una de las palabras de este vocabulario para que aprendas a contextualizarlo.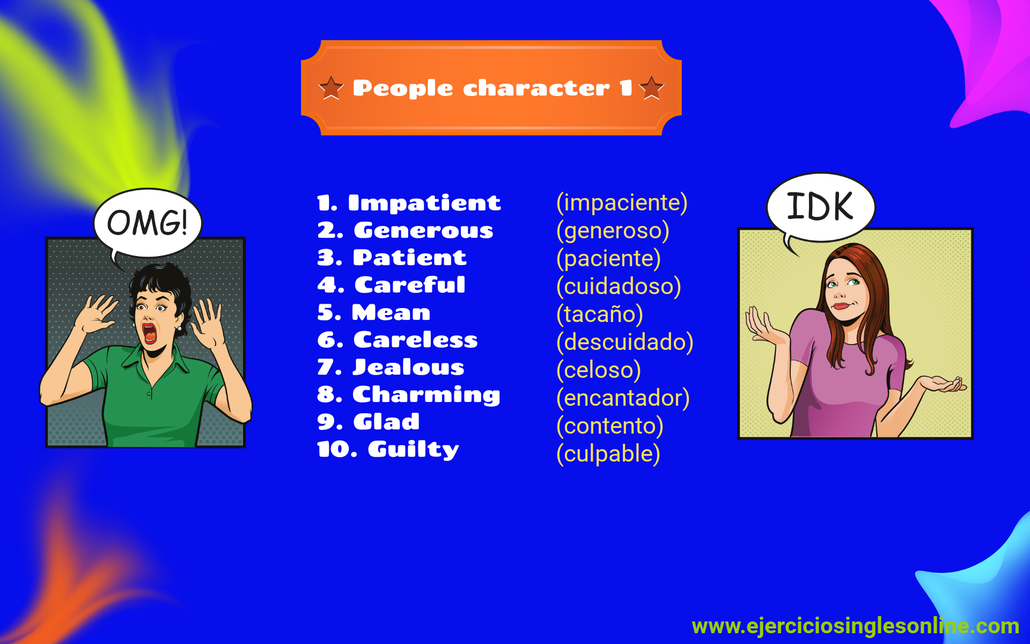 Ejemplos
1. George is a very impatient boy.
(George es un chico muy impaciente)
2. If you want to be successful in life you have to be generous.
(Si quieres tener éxito en la vida tienes que ser generoso)
3. The teacher is very patient with her pupils.
(La profesora es muy paciente con sus alumnos)
4. You should be careful when crossing the street.
(Deberías tener cuidado cuando cruzas la calle)
5. My girlfriend calls me mean because I don't give her a gift.
(Mi novia me llama tacaño porque no le doy un regalo)
6. You are careless about your diet.
(Eres descuidado con tu dieta)
7. I feel jealous when she talks to John.
(Tengo celos cuando ella habla con John)
8. Alice is a very charming girl.
(Alice es una chica muy encantadora)
9. I'm glad to hear that.
(Me alegra escuchar eso)
10. He was found guilty and the judge will sentence him.
(Fue considerado culpable y el juez lo condenará)