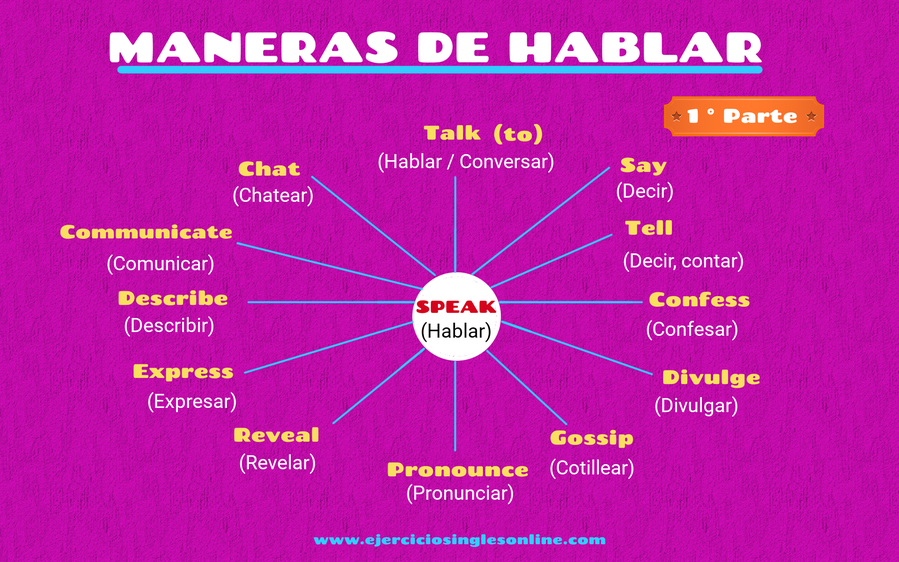 ejemplos
1. I'm really busy. I can't talk to you right now.
(Estoy muy ocupado. No puedo hablar contigo ahora mismo)
2. People say breakfast is the most important meal of the day.
(La gente dice que el desayuno es la comida más importante del día)
3. Tell mom and dad I'm going out with my friends.
(Dile a mamá y papá que voy a salir con mis amigos)
4. Catholics confess to their priests.
(Los católicos se confiesan con su sacerdotes)
5. I will not divulge my strategy.
(No divulgaré mi estrategia)
6. People who gossip are not living their own lives.
(La gente que cotillea no vive sus vidas)
7. I can't pronounce this word. It's very difficult.
(No se pronunciar esta palabra. Es muy difícil)
8. I can't reveal my secret to you.
(No puedo revelarte mi secreto)
9. I would like to express my gratitude for your support.
(Me gustaría expresar mi gratitud por su apoyo)
10. I can't describe what I fell for you. 
(No puedo describir lo que siento por tí)
11. This is not the right way to comunicate.
(Esta no es la mejor manera de comunicarse)
12. I'm going to chat with Alice to find out the truth.
(Voy a charlar con Alice para averiguar la verdad)