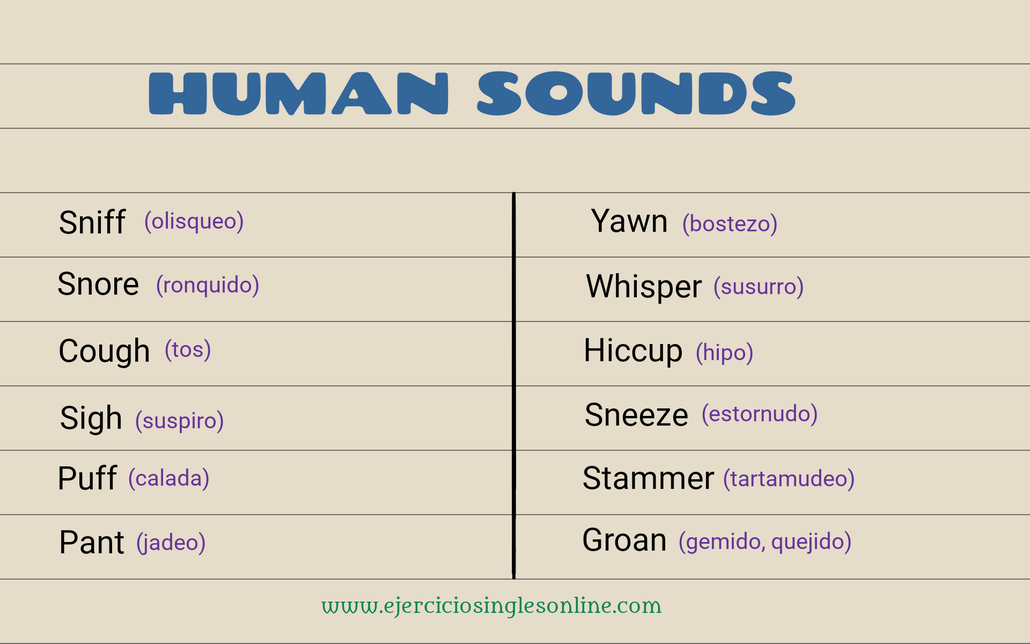 1. She allowed the dog to sniff her baby.
(Ella permitió que su perro olisqueara a su bebé).
2. Snoring may require medical care.
(El ronquido puede requerir atención médica)
3. You learn to hear when the child's cough sounds really bad.
(Aprendes a escuchar cuando la tos de tu hijo suena muy mal)
4. When we found the kid we all breathed a sigh of relief.
(Cuando encontramos al niño todos dimos un suspiro de alivio)
5. The last puff is the one I like the most.
(La última calada al cigarro es la que más me gusta).
6. Dogs pant to cool down their bodies.
(Los perros jadean para enfriar sus cuerpos).
7. When you get sleepy you begin to yawn.
(Cuando te da sueño empiezas a bostezar)
8. The whisper can have more impact than the shout.
(El susurro puede tener más impacto que un grito)
9. I'm trying to relieve my hiccup.
(Estoy intentado aliviarme el hipo)
10. A sneeze can exceed the speed of 100mph.
(Un estornudo puede superar las 100 millas por hora)
11. Stammer indicates that a person doesn't speak a language very well.
(El tartamudeo / titubeo puede indicar que una persona no habla bien un idioma)
12. We could hear the groans of the wounded soldiers.
(Podiamos escuchar los gemidos de los soldados heridos)