Descripción: Conectores para añadir información en inglés. Te presentamos nuevos conectores en inglés y te ayudamos a utilizarlos a través de ejemplos muy prácticos.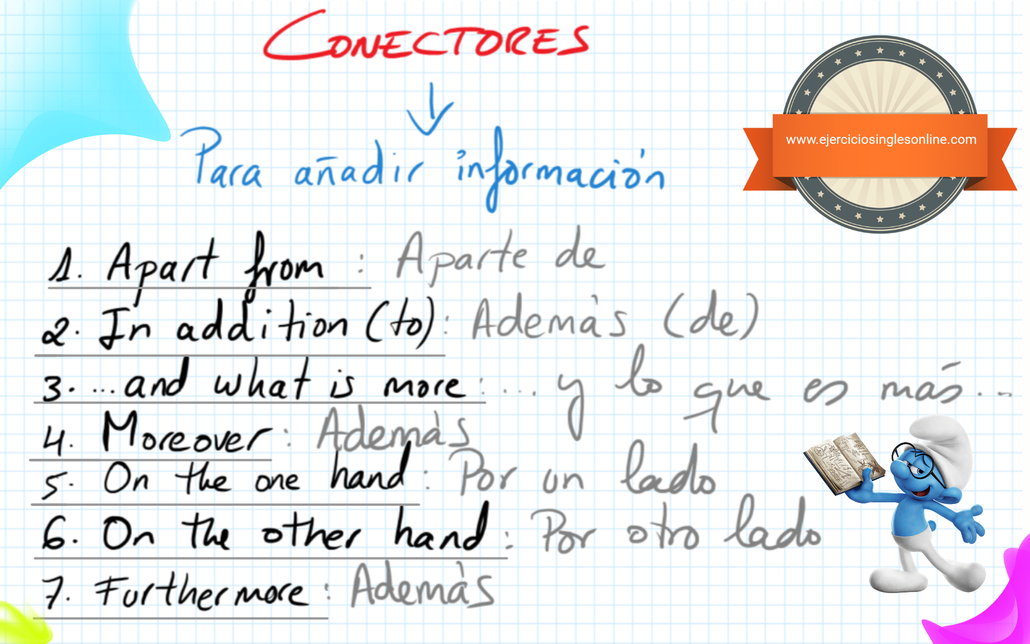 EJEMPLOS
1. Apart from that, you should visit the doctor tomorrow.
(Aparte de eso, deberías visitar al médico mañana)
2. In addition to this, it is a such a good idea to stay at home.
(Además de esto, es muy buena idea quedaros en casa)
3. We will now keep silence in memory of victims, and what is more, respect will be shown.
(Guardemos silencio ahora en memoria de las víctimas, y lo que es más, mostraremos respeto)
4. Moreover, the need for a change was not limited to staff.
(Además, la necesidad de un cambio no se limita solo al personal)
5. On the one hand, they face new challenges with their new firm.
(Por un lado, se enfrentan nuevos retos con su nueva empresa)
6. On the other hand, you have to work hard if you want to be on the top.
(Por otro lado, tienes que trabajar duro si quieres estar en la cima)
7. Furthermore, you have to decide what to do in each moment.
(Además, tu tienes que decidir que hacer en cada momento)