---
Descripción: Aprende los phrasal verbs más comunes con "break" en inglés, como "break down", "break out", y "break up". Con ejemplos y explicaciones claras, este artículo te ayudará a entender cómo usar estos verbos en situaciones cotidianas.
---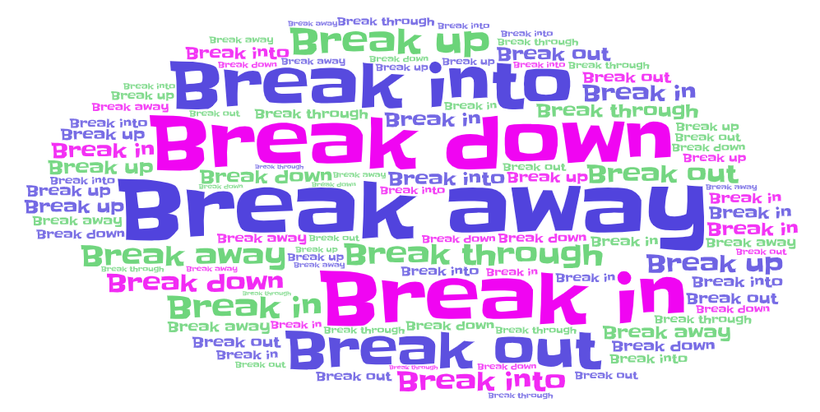 Break away -

To escape or leave suddenly from a situation or a group.
(Escapar o salir de repente de una situación o grupo.)
Example: The athlete managed to break away from the pack and win the race.
(El atleta logró escapar del grupo y ganar la carrera.)
Break down -

To stop functioning properly or to have an emotional collapse.
(Dejar de funcionar correctamente o tener un colapso emocional.)
Example: My car broke down on the way to work this morning.
(Mi coche se descompuso en el camino al trabajo esta mañana.)
Break in -

To interrupt or to use something new until it becomes more comfortable.
(Interrumpir o usar algo nuevo hasta que se vuelva más cómodo.)
Example: I need to break in my new shoes before I wear them to the party.
(Necesito usar mis zapatos nuevos hasta que se vuelvan más cómodos antes de la fiesta.)
Break into -

To enter forcibly or to start a new career.
(Entrar por la fuerza o comenzar una nueva carrera.)
Example: The burglars broke into the house while the family was on vacation.
(Los ladrones entraron por la fuerza en la casa mientras la familia estaba de vacaciones.)
Break out -

To escape from a place or to suddenly begin.
(Escapar de un lugar o comenzar repentinamente.)
Example: The prisoners managed to break out of the jail.
(Los presos lograron escapar de la cárcel.)
Break through -

To succeed in overcoming an obstacle or barrier.
(Lograr superar un obstáculo o barrera.)
Example: The runner managed to break through the finish line first.
(El corredor logró cruzar la línea de meta primero.)
Break up -

To end a relationship or to separate into smaller pieces.
(Terminar una relación o separarse en piezas más pequeñas.)
Example: Jack and Jill decided to break up after dating for three years.
(Jack y Jill decidieron terminar después de tres años de citas.)