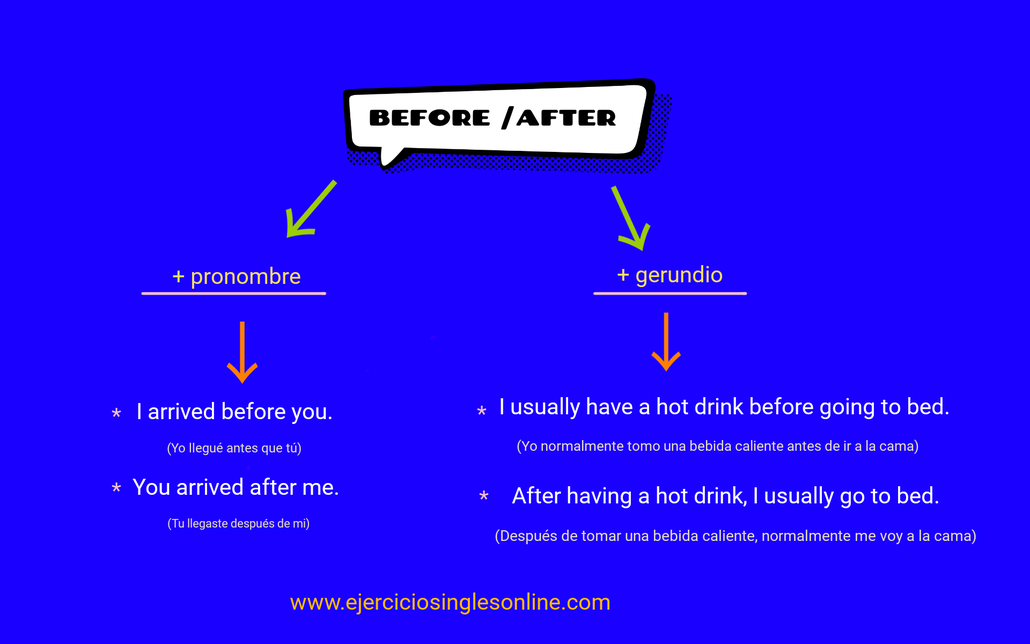 1. BEFORE / AFTER + SUSTANTIVO / PRONOMBRE
I arrived before you. (Yo llegué antes que tu).
You arrived after me. (Tu llegaste después de mi).
2. BEFORE / AFTER + ORACIÓN
We had dinner before we went out. (Cenamos antes de salir).
We went out after we had dinner. (Nosotros salimos después de que cenaramos).
3. BEFORE / AFTER + GERUNDIO
I usually have a hot drink before going to bed. (Yo normalmente tomo una bebida caliente antes de ir a la cama).
After having a hot drink, I usually go to bed. (Después de tomar una bebida caliente, normalmente me voy a la cama).
4. Podemos utilizar BEFORE / AFTER para hablar de la hora en la que suceden eventos en el pasado o el futuro.
I went out after dinner. (Salí después de cenar).
I'm going out after dinner. (Voy a salir después de la cena).
5. Podemos utilizar before BEFORE / AFTER seguidos de presente simple para hablar sobre el futuro.
I'm going to learn some Portuguese before I go to Portugal (Voy a aprender algo de portugués antes de ir a Portugal)