---
---
Descripción: Oraciones condicionales - Primer tipo - Ejemplos.  Accede a ejemplos de oraciones condicionales de primer tipo en inglés. Puedes acceder también a ejercicios online con auto-corrección. 
---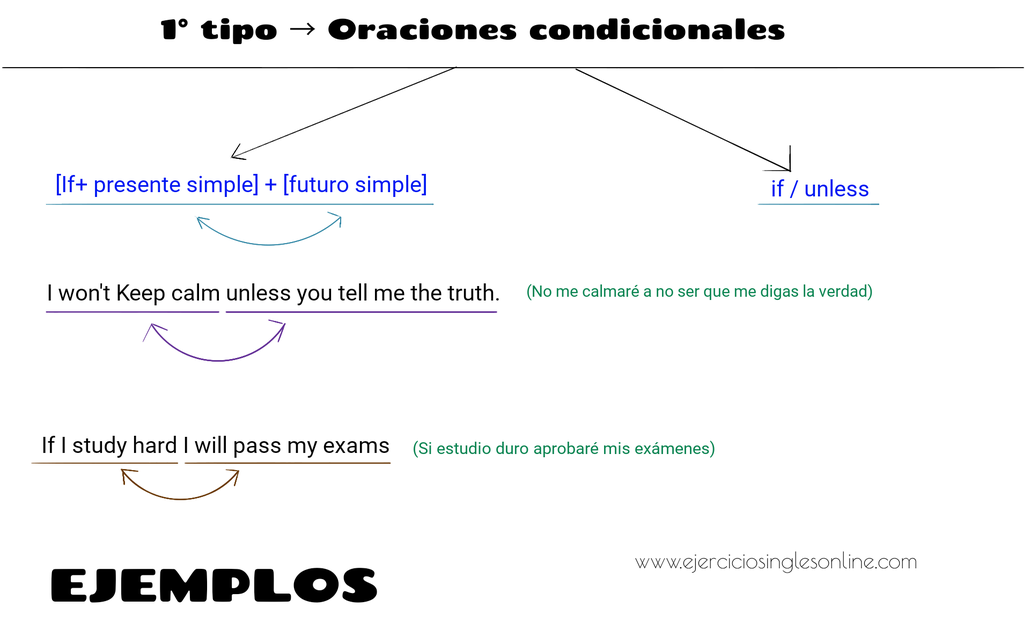 ---
1. John will come if Mary phones him.
(Yo vendrá si María lo llama).
2. You won't arrive on time unless you hurry up.
(No llegarás a tiempo a no ser que te des prisa)
3. If I study harder I will pass my test next week.
(Si estudio más duro aprobaré mi examen de la semana que viene).
4. Steve will pass his exams if he feels confident.
(Steve aprobará sus exámenes si se siente con confianza)
5. If you draw well you will become a great architect.
(Si dibujas bien te convertirás en un buen arquitecto)
6. I will drive better if you teach me well. 
(Conduciré mejor si me enseñas bien)
7. I won't keep calm unless you tell me the truth.
(No me calmaré a no ser que me cuentes la verdad)
8. If you a liar you will hurt me.
(Si eres un mentiroso me harás daño)
9. Tom will miss the plane unless he leaves before 9 o'clock.
(Tom perderá su avisón a menos que salga antes de las 9)
10. If Andrew becomes new City Mayor, he will build a hospital.
(Si Andrew se convierte en el nuevo alcalde de la ciudad, construirá un hospital)
---
---
---
---
---