---
Descripción: Sujeto + want / expect + pronombre objeto + infinitivo con "to". Accede a ejemplos en los que se utilizan estas estructuras en inglés y observa la diferencia con respecto al idioma español.
---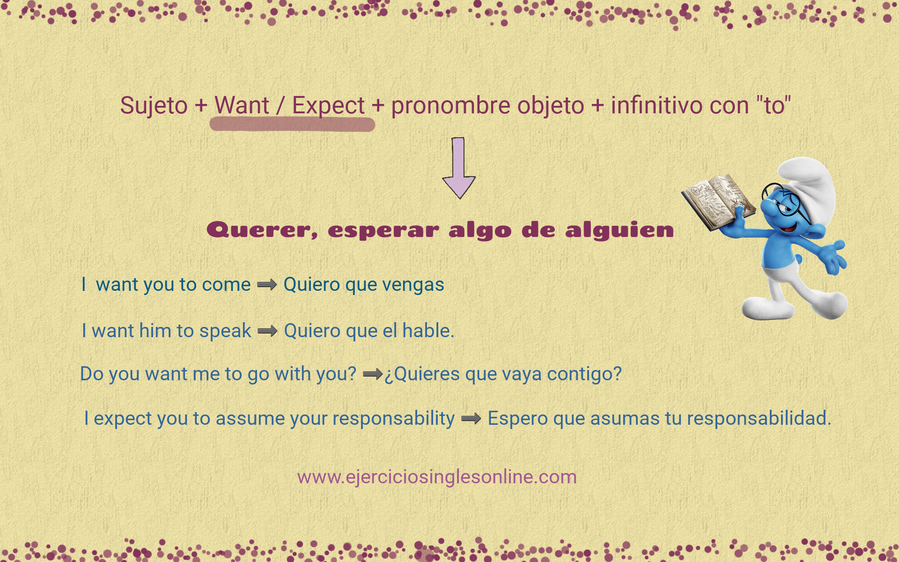 ejemplos
1. I want you to know how happy I am.
(Quiero que sepas lo feliz que me siento)
2. I want you to stay here forever.
(Quiero que te quedes aquí para siempre)
3. I don't want her to say I wasted my time.
(No quiero que ella diga que perdí mi tiempo)
4. He wants me to learn English.
(El quiere que yo aprenda inglés)
5. They want us to speak about climate protection.
(Ellos quieren que hablemos sobre la protección del clima.
6. I expect you to provide more specific information about yourself your CV.
(Espero que presentes más información sobre ti mismo en tu CV)
7. They didn't expect him to win the prize, but he did.
(Ellos no esperaban que el ganara el premio, pero lo hizo)
8. She expects him to keep his promises.
(Ella espera que el mantenga sus promesas).
9. I expect  her not to do that! 
(Espero que ella no haga eso)
10. We expect them to try to learn two languages at least.
(Espero que ellos intente aprender al menos dos idiomas).