---
Descripción: Aprende vocabulario relacionado con las 'Criaturas imaginarias', incluye seres fantásticos como dragones, hadas, unicornios y vampiros. Estas criaturas despiertan nuestra imaginación y aparecen en cuentos y mitos de diferentes culturas. Explora un mundo mágico y lleno de fantasía a través de estas palabras.
---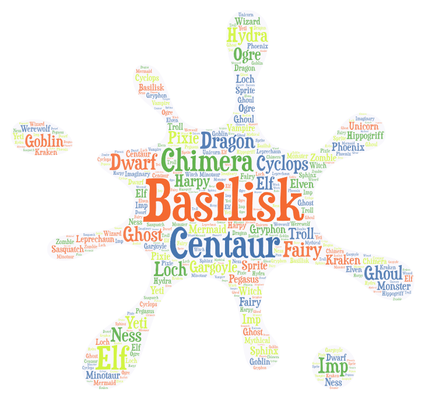 Basilisk

[ˈbæzɪlɪsk]

- Basilisco
Centaur

[ˈsɛntɔːr]

- Centauro
Chimera

[kaɪˈmɪərə]

- Quimera
Cyclops

[ˈsaɪklɒps]

- Cíclope
Dragon

[ˈdræɡən]

- Dragón
Dwarf

[dwɔːrf]

- Enano
Elf

[ɛlf]

- Elfo
Fairy

[ˈfeəri]

- Hada
Gargoyle

[ˈɡɑːrɡɔɪl]

- Gárgola
Ghost

[ɡoʊst]

- Fantasma
Ghoul

[ɡuːl]

- Gúl
Goblin

[ˈɡɑːblɪn]

- Duende
Gryphon

[ˈɡrɪfɪn]

- Grifo
Harpy

[ˈhɑːrpi]

- Arpía
Hippogriff

[ˈhɪpəɡrɪf]

- Hipogrifo
Hydra

[ˈhaɪdrə]

- Hidra
Imp

[ɪmp]

- Diablillo
Kraken

[ˈkrækən]

- Kraken
Leprechaun

[ˈlɛprɪkɔːn]

- Duende irlandés
Loch Ness Monster

[lɒk nɛs ˈmɒnstər]

- Monstruo del lago Ness
Mermaid

[ˈmɜːrmɪd]

- Sirena
Minotaur

[ˈmɪnətɔːr]

- Minotauro
Ogre

[ˈoʊɡər]

- Ogro
Pegasus

[ˈpɛɡəsəs]

- Pegaso
Phoenix

[ˈfiːnɪks]

- Fénix
Pixie

[ˈpɪksi]

- Pixie
Sasquatch

[ˈsæskwɑːtʃ]

- Pie grande
Sphinx

[sfɪŋks]

- Esfinge
Sprite

[spraɪt]

- Espíritu
Troll

[troʊl]

- Troll
Unicorn

[ˈjuːnɪkɔːrn]

- Unicornio
Vampire

[ˈvæmpaɪr]

- Vampiro
Werewolf

[ˈwɛrˌwʊlf]

- Hombre lobo
Witch

[wɪtʃ]

- Bruja
Wizard

[ˈwɪzərd]

- Mago
Yeti

[ˈjɛti]

- Yeti
Zombie

[ˈzɒmbi]

- Zombi
Elven

[ˈɛlvən]

- Élfico
Mythical

[ˈmɪθɪkəl]

- Mítico
Imaginary

[ɪˈmædʒɪnəri]

- Imaginario
The dragon soared through the sky, breathing fire. - El dragón surcaba el cielo, escupiendo fuego.

Fairies are believed to have magical powers and live in enchanted forests.

- Se cree que las hadas tienen poderes mágicos y viven en bosques encantados.
The unicorn is a legendary creature with a single horn on its forehead. - El unicornio es una criatura legendaria con un solo cuerno en su frente.
The goblins in the story were mischievous and loved to play tricks on people. - Los duendes del cuento eran traviesos y les encantaba jugar trucos a la gente.
Legends tell of a powerful wizard who could cast spells and control the elements. - Las leyendas hablan de un poderoso mago que podía lanzar hechizos y controlar los elementos.
The phoenix is a mythical bird that is said to rise from its own ashes. - El fénix es un ave mítica que se dice que renace de sus propias cenizas.
According to folklore, gorgoyles are stone statues that come to life at night. - Según el folclore, las gárgolas son estatuas de piedra que cobran vida por la noche.
The werewolf transformed into a wolf under the light of the full moon. - El hombre lobo se transformaba en un lobo bajo la luz de la luna llena.
The harpy had the body of a bird and the face of a woman, known for its shrill cries. - La arpía tenía el cuerpo de un pájaro y el rostro de una mujer, conocida por sus chillidos agudos.
The ghost haunted the old mansion, appearing as a pale figure in the moonlight. - El fantasma acechaba la vieja mansión, apareciendo como una figura pálida a la luz de la luna.