---
Descripción: En nuestro artículo de aprendizaje de inglés, descubre todo sobre la preparación para desastres. Aprende vocabulario esencial, desde alertas y evacuaciones hasta primeros auxilios y seguridad. Obtén información sobre cómo comunicarte durante emergencias y cómo planificar ante amenazas como incendios, inundaciones y terremotos. ¡Prepárate para cualquier situación y mejora tus habilidades lingüísticas en inglés!
---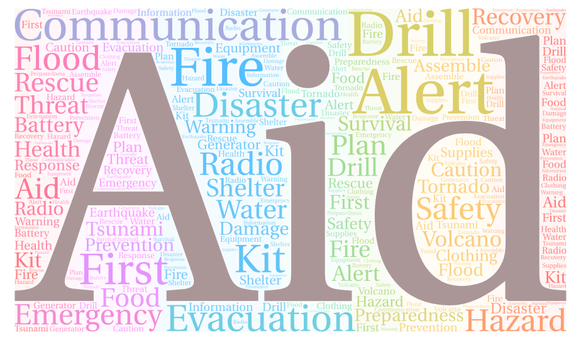 Alert

[əˈlɜrt]

- Alerta
Communication

[kəˌmjuːnɪˈkeɪʃən]

- Comunicación
Disaster

[dɪˈzæstər]

- Desastre
Drill

[drɪl]

- Simulacro
Emergency

[ɪˈmɜːrdʒənsi]

- Emergencia
Evacuation

[ɪˌvækjuˈeɪʃən]

- Evacuación
Fire

[faɪər]

- Incendio
First aid

[fɜːrst eɪd]

- Primeros auxilios
Flood

[flʌd]

- Inundación
Hazard

[ˈhæzərd]

- Peligro
Preparedness

[prɪˈpeərdnəs]

- Preparación
Prevention

[prɪˈvenʃən]

- Prevención
Radio

[ˈreɪdioʊ]

- Radio
Recovery

[rɪˈkʌvəri]

- Recuperación
Rescue

[ˈrɛskjuː]

- Rescate
Safety

[ˈseɪfti]

- Seguridad
Shelter

[ˈʃɛltər]

- Refugio
Survival

[sərˈvaɪvəl]

- Supervivencia
Threat

[θrɛt]

- Amenaza
Tornado

[tɔrˈneɪdoʊ]

- Tornado
Tsunami

[tsuˈnɑːmi]

- Tsunami
Volcano

[vɑlˈkeɪnoʊ]

- Volcán
Warning

[ˈwɔrnɪŋ]

- Advertencia
Water

[ˈwɔtər]

- Agua
Aid

[eɪd]

- Ayuda
Assemble

[əˈsɛmbəl]

- Reunir
Battery

[ˈbætəri]

- Batería
Caution

[ˈkɔːʃən]

- Precaución
Clothing

[ˈkloʊðɪŋ]

- Ropa
Damage

[ˈdæmɪdʒ]

- Daño
Earthquake

[ˈɜrθkweɪk]

- Terremoto
Equipment

[ɪˈkwɪpmənt]

- Equipamiento
Food

[fuːd]

- Alimento
Generator

[ˈdʒɛnəˌreɪtər]

- Generador
Health

[hɛlθ]

- Salud
Information

[ˌɪnfərˈmeɪʃən]

- Información
Kit

[kɪt]

- Kit
Plan

[plæn]

- Plan
Response

[rɪˈspɑːns]

- Respuesta
Supplies

[səˈplaɪz]

- Suministros
Be alert for any signs of a potential disaster. - Mantente alerta ante cualquier señal de un posible desastre.
Evacuation drills are conducted regularly to ensure everyone's safety. - Se realizan simulacros de evacuación regularmente para garantizar la seguridad de todos.
In case of a fire, remember to follow the emergency procedures. - En caso de incendio, recuerda seguir los procedimientos de emergencia.
It is important to have a first aid kit readily available at home. - Es importante tener un botiquín de primeros auxilios disponible en casa.
The recent flood caused significant damage to the surrounding areas. - La reciente inundación causó daños significativos en las áreas circundantes.
Stay informed through radio broadcasts for any warning messages. - Mantente informado a través de las transmisiones de radio en busca de mensajes de advertencia.
Volcanic eruptions can be highly hazardous to nearby communities. - Las erupciones volcánicas pueden ser altamente peligrosas para las comunidades cercanas.
Make sure you have enough water supplies for emergency situations. - Asegúrate de tener suficiente suministro de agua para situaciones de emergencia.
It is crucial to have a well-equipped emergency kit with essential items. - Es crucial tener un kit de emergencia bien equipado con elementos esenciales.
Quick response and coordination are key during rescue operations. - Una respuesta rápida y coordinación son clave durante las operaciones de rescate.