Descripción: Vida diaria en inglés - writing. En la siguiente entrada te enseñamos a escribir una redacción acerca de tu vida diaria en inglés. 
Antes de escribir cualquier tipo de redacción es muy importante poner nuestras ideas en orden. Fíjate en el siguiente ejemplo: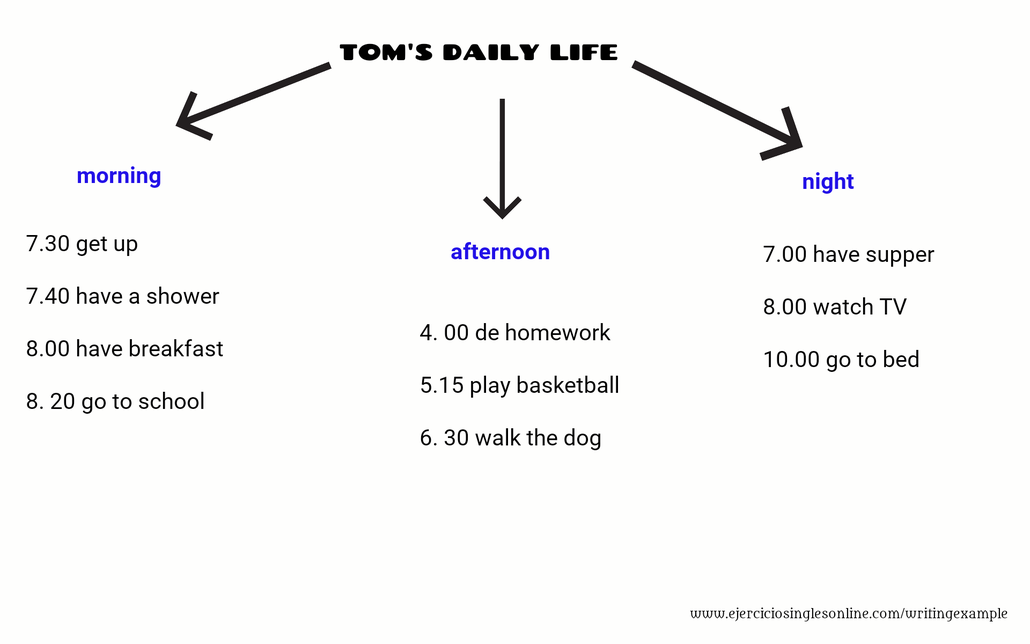 Ahora que ya tenemos claro cuales son las ideas principales que vamos a desarrollar, podemos organizarlas teniendo en cuenta el siguiente diagrama en el cual organizaremos nuestra redacción en párrafos:
 

 1º Párrafo: Introducción

 

My daily life is

very exciting

rather amusing

not very interesting

boring

 because 

 

 2º párrafo: cuerpo principal (explica tus acciones diarias)

 

In the morning, I

 get up

have breakfast

at 

 

 3º párrafo: conclusión

 

To sum up,

In short,

All in all,

To conclude,

my daily life......