---
Descripción: Descubre los idioms más comunes relacionados con el amor y las relaciones en inglés. Aprende a expresarte como un nativo y a entender mejor el lenguaje coloquial utilizado en la cultura angloparlante. Amplía tu vocabulario y mejora tus habilidades en el idioma con estas frases idiomáticas útiles y divertidas.
---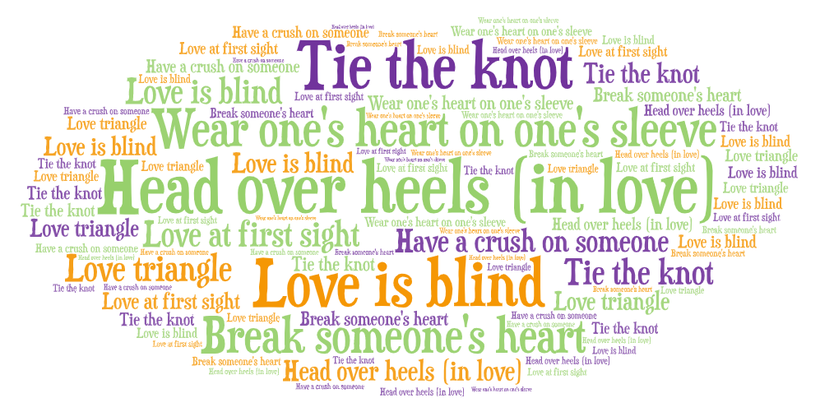 ---
---
Head over heels (in love)

- Completamente enamorado/a
This idiom means being completely and deeply in love with someone. It is often used to describe intense feelings of infatuation or romantic attraction towards another person.
Example: When Maria met Juan, she fell head over heels in love with him. Cuando Maria conoció a Juan, se enamoró completamente de él.
Love is blind - El amor es ciego
This idiom means that when people are in love, they tend to overlook the faults or shortcomings of their partner, and only see the good qualities. It can also refer to situations where people ignore warning signs or red flags in a relationship.
Example: Even though her boyfriend has cheated on her before, she forgave him because love is blind. A pesar de que su novio le ha sido infiel antes, lo perdonó porque el amor es ciego.
Wear one's heart on one's sleeve -

Mostrar los sentimientos abiertamente
This idiom means to openly express one's emotions, especially when it comes to love and relationships. It can also refer to being vulnerable or transparent about one's feelings.
Example: Tom wears his heart on his sleeve and always tells his girlfriend how much he loves her. Tom muestra sus sentimientos abiertamente y siempre le dice a su novia cuánto la quiere.
This idiom means to get married. It is often used when referring to a wedding or the act of making a lifelong commitment to someone.
Example: After being together for ten years, Juan and Maria finally tied the knot last weekend. Después de estar juntos durante diez años, Juan y Maria finalmente se casaron el fin de semana pasado.
Break someone's heart -

Romperle el corazón a alguien
This idiom means to cause someone emotional pain, especially when it comes to love and relationships. It is often used when referring to the end of a romantic relationship or a betrayal of trust.
Example: Maria was devastated when Juan broke her heart by cheating on her. Maria estaba devastada cuando Juan le rompió el corazón al engañarla.
Love at first sight -

Amor a primera vista
This idiom means to feel a strong romantic attraction towards someone immediately upon first meeting them. It is often used to describe a sudden and intense feeling of love or infatuation.
Example: When Tom saw Maria across the room, he knew it was love at first sight. Cuando Tom vio a Maria al otro lado de la habitación, supo que era amor a primera vista.
Have a crush on someone -

Estar enamorado/a de alguien en secreto
This idiom means to have a romantic interest in someone, often secretly. It is often used to describe a feeling of infatuation or admiration towards someone.
Example: Maria has had a crush on Tom since the first day of class, but she's too shy to tell him. Maria está enamorada en secreto de Tom desde el primer día de clase, pero es demasiado tímida para decirle.
Love triangle - Triángulo amoroso
This idiom refers to a situation in which three people are romantically involved with each other in some way. It is often used to describe a complex or messy relationship situation.
Example: Maria and Tom's relationship became complicated when Juan entered the picture, creating a love triangle. La relación de Maria y Tom se complicó cuando Juan entró en la imagen, creando un triángulo amoroso.