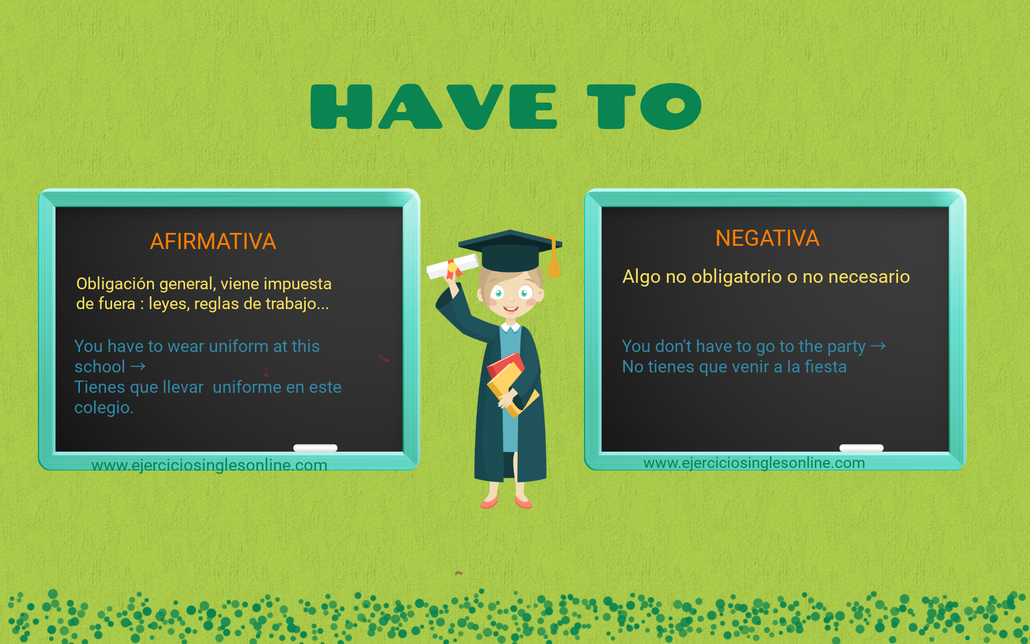 FORMACIÓN
- Afirmativa: sujeto + have to / has to + verbo en infinitivo 
- Negativa: sujeto + don't / doesn't + have to + verbo en infinitivo
- Interrogativa: Do / Does + sujeto + have to + verbo en infinitivo ?
USO
- Afirmativa: cuando hablamos de una obligación general que viene impuesta de fuera, como por ejemplo, reglas de trabajo, leyes...
Ejemplo: You have to wear uniform at this school (Tienes que llevar uniforme en esta escuela).
Es algo que tienes que hacer obligatoriamente, una imposición. 
- Negativa: Algo que no es obligatorio o que no es necesario.  
Ejemplo: You don't have to go to the party (No tienes que ir a la fiesta)
Nota: La estructura "have / has to" varía en función del tiempo verbal. Por ejemplo si utilizamos pasado (had to / didn't have to / Did + sujeto + have to). En futuro sería "will have to + infinitivo" (You will have to go to the doctor - Tendrás que ir al médico).