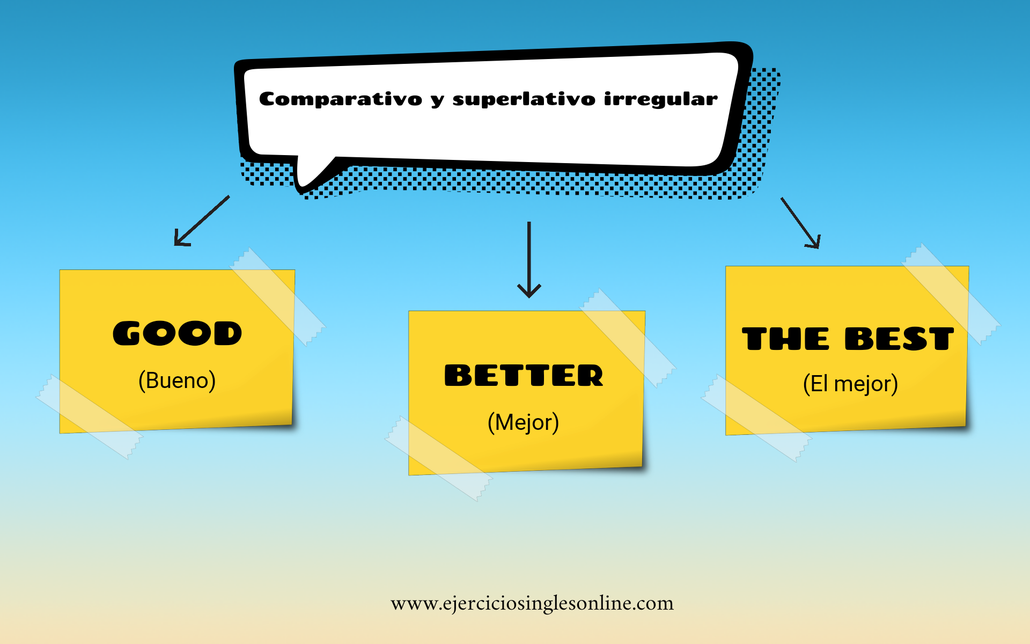 comparativo y superlativo
(ADJETIVOS IRREGULARES)
Buenos días!
Hoy en www.ejerciciosinglesonline.com, repasamos los principales formas irregulares del comparativo y el superlativo en inglés:
1. Good - better - the best
2. Bad - worse - the worst
3. Far - father, further - the farthest, the furthest
4. Little - less - the least
5. Much, many - more - the most
7. Old - older - the oldest (para personas y cosas)
8. Old - elder - the eldest (Solo para personas y en relaciones personales)
¿Cuándo utilizamos farther y cuando further?
1. Utilizamos "farther" para referirnos a una distancia física. Por ejemplo:
Paul's town is farther than Steve's town.
(La ciudad de Paul está más lejos que la ciudad de Steve).
2. Utilizamos "further" para referirnos a una distancia metafórica o figurativa. Por ejemplo:
His madness has gone much further this year.
(Su locura ha ido mucho más lejos este año)
Para acceder a una explicación completa de comparativos y superlativos en inglés, así como también para realizar ejercicios sobre este tema online, acceda a la sección COMPARATIVE AND SUPERLATIVE