---
Descripción: Aprende a hablar inglés como un nativo con nuestra colección de idioms con colores. Descubre el significado y la aplicación de frases hechas populares como "green with envy" o "red herring". Mejora tu vocabulario y comunicación en inglés mientras te sumerges en la cultura y la historia detrás de estas expresiones coloridas.
---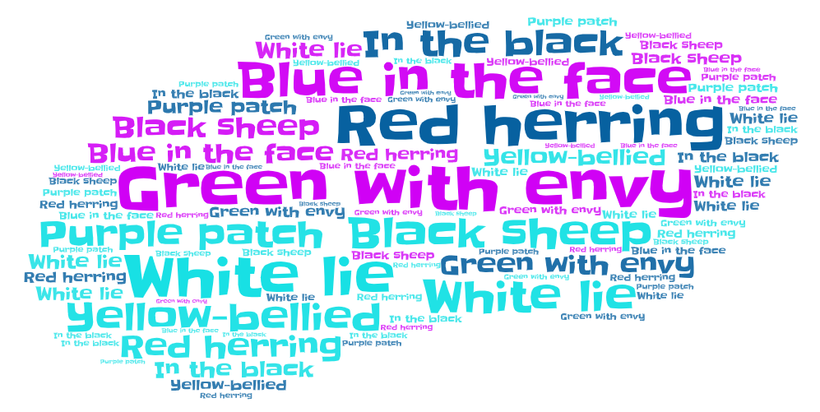 Green with envy - Verde de envidia
Meaning: to be jealous of someone or something
Significado: sentir celos de alguien o algo
White lie - Mentira piadosa
Meaning: a minor or harmless lie
Significado: una mentira menor o inofensiva
Red herring - Pista falsa
Meaning: something that misleads or distracts from the real issue
Significado: algo que engaña o distrae de la verdadera cuestión
Blue in the face - Hasta estar azul
Meaning: to be exhausted or frustrated from trying to convince someone of something
Significado: estar agotado o frustrado por intentar convencer a alguien de algo
Black sheep - Oveja negra
Meaning: a person who is considered a disgrace to a group or family
Significado: una persona considerada una desgracia para un grupo o familia
Yellow-bellied - Gallina (amarilla)
Meaning: cowardly or easily frightened
Significado: cobarde o fácilmente asustado
In the black - En números negros
Meaning: to have a positive balance in one's finances
Significado: tener un saldo positivo en las finanzas
Purple patch - Racha de buena suerte
Meaning: a period of good luck or success
Significado: un periodo de buena suerte o éxito
Estas frases hechas se utilizan para dar énfasis a una idea o concepto en particular de una manera visual. A menudo, están arraigadas en la cultura y la historia, y se usan comúnmente en la conversación cotidiana. Las explicaciones en español indican la razón por la que se utilizan estas frases y proporcionan un contexto cultural para su uso.